Op alle trampolines van Salta zit garantie. Bekijk hier de garantie die wij verlenen per trampoline. Heb je problemen met een onderdeel en valt dit nog binnen de garantie? Vul dan het garantieformulier hieronder in, wij zullen je dan zo snel mogelijk helpen.

Waar vind ik het artikelnummer?
Het itemnummer van je trampoline kun je door middel van onderstaande punten traceren:

1. Trampoline labels
De Salta trampolines zijn voorzien van meerdere labels waarop het itemnummer en productiejaar is weergegeven. De labels zijn te vinden op de trampoline mat, aan de onderkant van de veiligheidsrand of middels een sticker op het frame.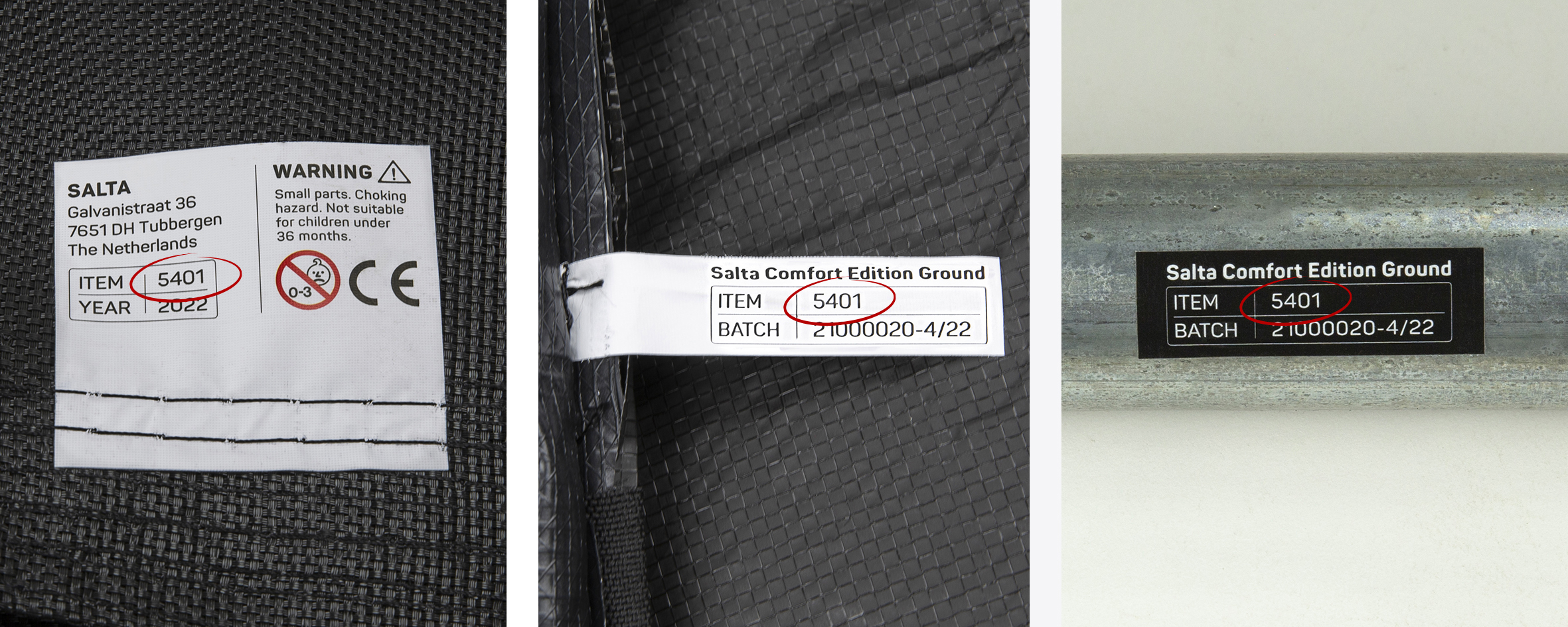 2. Verpakking of handleiding
Indien je de originele verpakking of handleiding tot je beschikking hebt, kun je het itemnummer hierop terugvinden.
3. Factuur
In enkele gevallen is het itemnummer van je trampoline door de leverancier op de factuur aangegeven.

4. Onderzoek
Mocht het niet gelukt zijn om met bovenstaande punten je itemnummer te vinden, dan kun je middels de website controleren welk trampolinemodel overeenkomt met je eigen trampoline. De afmeting van je trampoline kun je achterhalen door te meten vanaf de buitenkant van het frame. Met deze gegevens is het dan mogelijk om de juiste reserve onderdelen te selecteren. Mocht je het niet zeker weten, dan kun je altijd navraag doen bij onze klantenservice door middel van ons contactformulier.